"I'm writing to you about your spacers. I have been in the tile and marble business in the Palm Beach County, FL area since childhood, and have seen many methods of laying tile. I was introduced to using spacers a couple of years ago and got hooked. I found they kept the grout joints uniform and straight, and made it impossible for the tile to move out of place. The problem was removing them. It was difficult to get them out and took a long time. But your product removes with ease. Your spacers don't drop down in the joints and are easier to handle. To remove, you can brush them out with your feet in no time, then sweep them up. I don't think there is a better tool to use. Thank you very much."
Bill
Contractor
Jupiter, Florida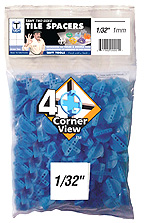 We are proud to offer the "4-Corner View" TAVY 2-sided Tile Spacer. You can still TRUST the TAVY Spacer to set straight grout lines, but now you can VERIFY that each intersection is PERFECT every time! Simply pack the tile tight against our patented TAVY Spacer and you can see for yourself that the corners are lined up perfectly...every time.
Our patented spacer is a dramatic improvement over the traditional spacers sold in the marketplace today. A major benefit of The TAVY Tile Spacer is that the circular design prevents the spacer from bottoming out into the cement or adhesive making removal extremely easy. Installers can use a 1/32 inch spacer as easily as they would use a 3/8 inch spacer. A traditional spacer must be painstakingly removed by picking each one out from between every tile! NEVER AGAIN will an installer have to get on his hands and knees to remove spacers with the TAVY Tile Spacer.
Another benefit is the versatile, two sided design of the TAVY Tile Spacer which allows for an installer to use both sides of our spacer. The cross side can be used at any four corner intersection and the straight edge side can be used at any location a spacer is required.
The TAVY Tile Spacer will soon become the preferred tool for every installation. By making tile installation easier, DIY'ers (Do-It-Yourselfers) will be more tempted to tackle a project because they will be more confident that their job will look like that of a professional.

Easy to Install
Easier to Remove
See all 4 corners of every intersection
Save Time, Save Money
Available in seven sizes: 1/32", 1/16", 3/32", 1/8", 3/16", 1/4" & 3/8"